TG Fam by Tripti Garg – The Inspiring Journey of a Single Mother Turned Makeup Artist
Welcome to "TG Fam" – an extraordinary blog that takes you behind the scenes of a remarkable woman's life. Meet Tripti Garg, a single mother and makeup artist who has not only transformed her passion into a thriving career but has also become a veteran in the beauty industry over the past decade. Join us on a journey through her life, her artistry, and the incredible world she's created.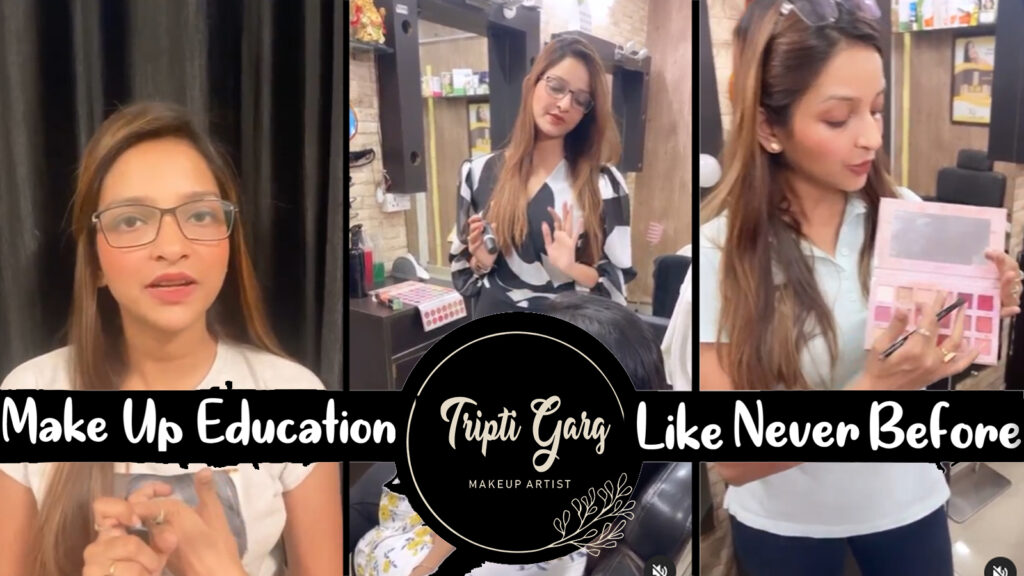 Tripti's Tale: From Adversity to Artistry
"TG Fam" is a window into the captivating life of Tripti Garg, a woman who defied the odds and turned her passion into her profession. Her journey is an inspiring testament to resilience, determination, and the unwavering pursuit of one's dreams. Through her blog, Tripti shares her life story, the challenges she's faced, and the moments of triumph that have defined her path.
Makeup Mastery: A Decade of Artistry
Tripti Garg's journey into the world of makeup artistry began over ten years ago. As a veteran in the field, she offers readers a treasure trove of beauty knowledge, from makeup tutorials to product reviews and tips for achieving flawless looks. Whether you're a makeup enthusiast or a professional artist seeking inspiration, "TG Fam" is your go-to source for all things beauty.
Single Motherhood: Navigating Life's Challenges
Tripti's blog goes beyond the realm of beauty. She opens up about the unique challenges and joys of being a single mother while pursuing a demanding career. Her candid discussions on balancing work, family, and self-care offer valuable insights and inspiration to single parents everywhere.
Artistry Unveiled: Behind the Scenes
Ever wondered what goes on behind the scenes of a makeup artist's life? "TG Fam" takes you backstage to experience the creative process, from conceptualizing looks to working with clients and preparing for photoshoots. Tripti shares her experiences, tips, and tricks of the trade, making the art of makeup more accessible to all.
Client Chronicles: Transforming Lives, One Brushstroke at a Time
As a makeup artist, Tripti has touched the lives of countless clients, helping them feel confident and beautiful. In "TG Fam," she highlights inspiring client stories, showcasing the profound impact of makeup on self-esteem and self-expression. Witness the transformational power of makeup through the lens of an artist who cares deeply about her clients.
Beauty for All: Inclusivity and Diversity
In a world where beauty standards continue to evolve, "TG Fam" is a platform that celebrates diversity and promotes inclusivity. Tripti's commitment to showcasing beauty in all its forms is reflected in her work and her blog. Join her in embracing a vision of beauty that knows no boundaries.
Lifestyle and Wellness: The Total Package
Tripti's blog is a holistic experience that covers more than just makeup. Explore her insights on fashion, lifestyle, self-care, and wellness. From style guides to wellness routines, she provides a well-rounded perspective on living your best life.
TG Fam Community: Join the Tribe
Beyond a blog, "TG Fam" is a thriving community of individuals who resonate with Tripti's journey and values. Connect with like-minded readers, share your own experiences, and become part of a supportive community that celebrates individuality, perseverance, and the pursuit of dreams.
Your Voice Matters: Let's Connect
Tripti Garg believes in the power of community and values the voices of her readers. Your feedback, questions, and suggestions play a crucial role in shaping the future of "TG Fam." Reach out, share your thoughts, and embark on this incredible journey together.
In a world where adversity can often be seen as a barrier to success, "TG Fam" stands as a testament to the power of determination, passion, and self-belief. Tripti Garg's blog is an ode to the idea that no dream is too big to pursue, and no challenge is insurmountable.
Whether you're a makeup aficionado, a single parent facing life's trials, or simply someone seeking inspiration and empowerment, "TG Fam" offers a wealth of knowledge, stories of triumph, and a community that welcomes you with open arms. It's an exploration of beauty, strength, and the boundless possibilities that life has to offer.
So, come along and join Tripti Garg on her remarkable journey as a single mother, makeup artist, and veteran in the beauty industry. "TG Fam" is more than just a blog; it's an invitation to be part of a supportive, empowering, and inspiring family that believes in the transformative power of passion and perseverance.